High Conservation Value
Since 2008, we started demarcating HCV areas in our plantations in accordance with RSPO's guidelines. The HCV areas include riparian areas, reservoirs, bamboo gardens, swamps, graveyards, and important heritage and cultural sites. In 2014, we engaged RSPO accredited assessors to evaluate the HCV areas in all the oil palm estates and for future development, we will appoint assessors accredited by HCV Resource Network's Assessor Licensing Scheme (ALS).
Following the identification of the HCV areas, we organised a stakeholder meeting with delegates from both the government and local community to validate the designated areas, and to mark out these locations clearly on a map.
We restore the HCV areas by planting trees beneficial to the local wildlife. All oil palm trees within 50 meters from the large waterways were marked with white crosses. These trees would no longer be treated with pesticides and fertilisers so as to avoid contaminating the riparian areas. The HCV areas in existing estates are constantly monitored and assessed.
We communicate regularly with employees and local communities living around our estates on the importance of the HCV areas and the restriction of activities at these locations. The protection of endangered species is one of the topics covered during our discussions.
We encourage the participation of the local communities in protecting the wildlife in our estates and the HCV areas. We record wildlife species found on our estates, taking special notice of those classified vulnerable and above on the International Union for Conservation of Nature (IUCN) Red List of Threatened Species, and the list of protected species under Indonesian Regulation No. 7 of 1999 on the Preservation of Flora and Fauna.
Click here to download Overview of Red List or other national conservation list species found on our estates.
High Carbon Stock
In line with RSPO Principle and Criteria, we commit to evaluate the carbon stock of proposed development areas designated in our formal Land Use Change analysis. This evaluation - when coupled with programmes of action, monitoring and enforcement - will enable us to ensure that High Carbon Stock (HCS) areas are conserved.
We commit to use the HCS evaluation methodology agreed upon by RSPO, before any new development takes place.
Carbon Footprint
GHG Flow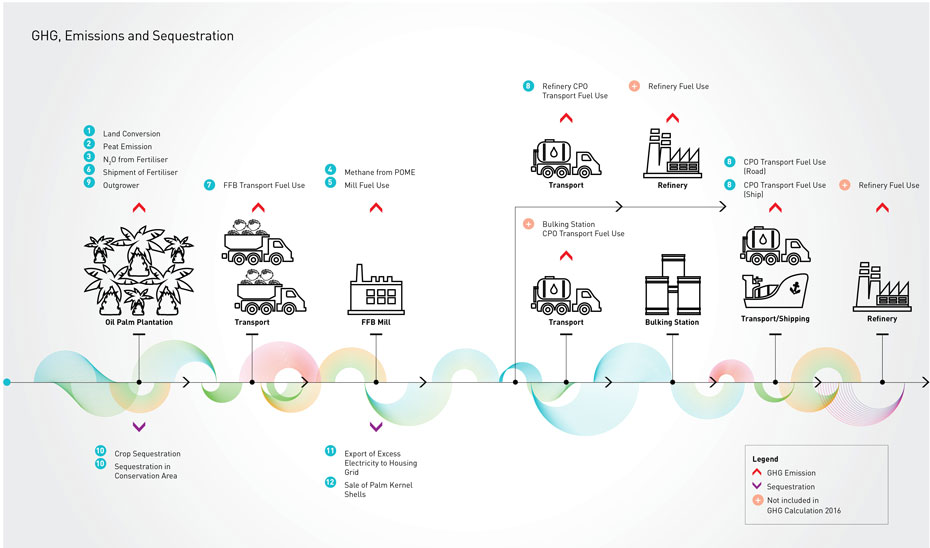 Click here to view larger image.
We acknowledge that emissions of man-made GHG can contribute to climate change and affect weather patterns. This, in turn, can have great impact on the agribusinesses in various ways. Changes in rainfall pattern and volume, for instance, have a direct effect on the productivity, performance and security of our supply chain.
The principal sources of GHG emissions in our operations are:
Carbon dioxide emissions arising from changes in carbon stock during the development of new plantations
Carbon dioxide emissions arising from the use of fuels by the palm oil mills, transportation and machinery
Methane emissions from Palm Oil Mill Effluent (POME) ponds
Nitrous oxide emissions from fertilisers
We joined the RSPO Palm GHG Calculator pilot project to set a GHG emission baseline for our palm oil mills and estates. We are using the learning points from the pilot project to help develop our GHG reduction strategies. See our latest Sustainability Report for detailed results of GHG pilot project calculation.
Since September 2013, we have committed to no new planting on peatland. Peatlands contain rich carbon stocks, which are a significant source of GHG emissions if disturbed. In line with the RSPO principles, we are committed to a no-planting policy on primary forests and HCV areas for new plantings. To reduce the emissions from Palm Oil Mill Effluents (POME), we are doing a detailed study on the reduction of methane in our Aerated Bunker Composting system which has been installed in two mills.