We seek to meet the standards required by our stakeholders and customers so they can be confident of traceable, responsibly sourced products.

Responsible Sourcing
Traceability
Of all the CPO we refine, 100 % can be traced back to a supplier mill.

Around 77% of CPO is sourced from our own plantations.

Of the FFB processed at mills we control, 100% can be traced back to a plantation of origin.
All our mills are are subject to certification audits, they are scheduled to be ISPO certified by end 2019. Our Policy expects CPO suppliers to achieve ISPO certification.
Supplier engagement is underway, using our Responsible Supplier Guidelines, and focuses on:
Agronomy (Good Agriculture Practices, yield, soil health, crop protection);
Good practice operations (safety, human rights, biodiversity, peatland, fire risk).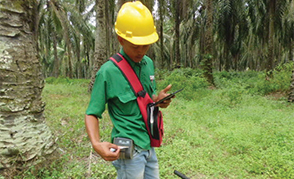 Source code in palm oil. In South Sumatra, FFB are traced back to nucleus and plasma sources using a barcode system carried by drivers. It traces the shipments from plasma growers, and identifies the Koperasi Unit Desa (KUD) organisations to which individual farmers belong.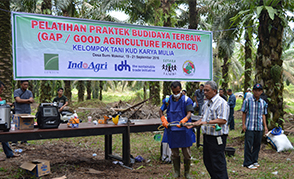 Nucleus and plasma training. We combine nucleus and plasma briefings on agronomy, such as leaf sampling to guage fertilizer dosing, awareness of paraquat substitute, and pest identification. Advisory visits by the research substation team are made to both nucleus and plasma growers.
Human Rights Assessment
We use the ISPO certification process as part of our efforts to mitigate risk for labour, human rights, and social issues. We report that 69% of operational sites units have been formally assessed for human rights risk in 2018. The competence developed through ISPO also informs and guides our other sites which are preparing for ISPO certification. Our whistle blower mechanism yielded no alerts of Policy breaches on human rights in 2018.
All ISPO audits include criteria for assessing this risk for new suppliers.
See our ISPO progress below
Smallholders: Yield, Welfare, Resilience
Smallholders are crucial stakeholders in our commitment to a traceable and sustainable supply chain. In Indonesia, smallholder plantations represent at least 40% of all palm oil cultivation, they generate exports and create jobs. The Indonesian Government plans to make ISPO mandatory for smallholder farmers; we aim to support and assist our smallholders achieve the ISPO certification once it is mandated. In 2018, we assisted one KUD (co-operative) in South Sumatra to achieve the ISPO certification. This smallholder KUD has successfully undergone the ISPO audit
In collaboration with IDH, IndoAgri's Smallholder Programme is working to achieve RSPO certification of 3,144 independent smallholders covering 6,141 ha in South Sumatra. The growers are committed in the programme as they understand that this will improve their access to markets, agricultural practices, and safer labour practices.
Our analysis for 2018 shows that after a successful pilot stage, RSPO certification was achieved at eight cooperatives whose members produced 86,168 tonnes of palm oil fruit covering 4,346 hectares of planted area
Out of the eight cooperatives, four cooperatives achieved the RSPO certification in 2018 whose members produced 42,915 tonnes of palm oil fruit covering 2,443 hectares of planted area
Initial indications show some yields improving from 3 tonnes/hectare to 4 tonnes/hectare
Current results have informed the plan to conduct a yield uplift survey in 2018
10 days of training delivered to participant growers in 2018.
Yield uplift is key to alleviating negative sustainability impacts. Plasma and other smallholders are expected to meet the same quality criteria as nucleus suppliers of FFB, so plasma plantations are closely aligned with our agricultural practices and management system.
If a grower is operating inefficiently it will erode their livelihood and create pressure to clear forests for agriculture. Our Smallholder Programme aims to minimise this risk. As plasma smallholders can be vulnerable to volatile market conditions, IndoAgri offers them free agronomic advice and training and makes essential resources such as seed stocks and fertilisers affordable to them using through discounts. We also help them to build the capacity of cooperatives on the journey to achieving ISPO certification. Our engagement with smallholders also involve training and workshop activities on sustainable palm oil.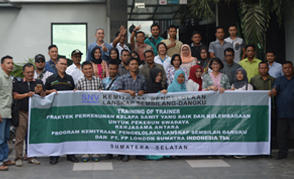 Diverse training for smallholders. The Responsible Sourcing from Smallholder (RSS) training was organised in collaboration with SNV Netherlands Development Organisation. The training will help farmers increase their production and living standards. It is also in line with the expectations of palm oil buyers who perceive risks in palm oil supply chains. The RSS Training I was held in April in Palembang with the participation of farmers from KUDs, IndoAgri Community Development Officers and Plasma Unit Assistants, and several other partners. The session aimed to strengthen Oil Palm Farmer Organisations and cooperatives and improve financial literacy and Internal Control systems. RSS Training II in May focussed on 'environmentally-friendly palm oil plantation practices', such as HCS, harvesting, grading, transportation, plantation development, fertilisation, as well as pest and disease control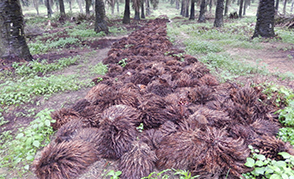 Bunches of benefits. Did you know that for every ton of palm oil produced, an additional 1.07t of empty fruit bunch is generated1. Nucleus, plasma and independent smallholders benefit from the effective use of empty fruit bunches as fetilizer. This means they rely less on external sources of farm inputs, they save cost, and they grow their profits.
Our Policy commits us to uphold and to deliver the principle of Free, Prior and Informed Consent (FPIC), particularly with respect to land acquisition involving local villages. We work to engage with communities and governments to establish land tenure and rights, likely impacts on communities using open negotiation processes and documented agreements. Before a new development takes place, a Social Impact Assessment is carried out to understand the baseline conditions and likely social impacts of development.
Sourcing Goals
A key target is for our mills and nucleus plantations and plasma smallholders to become ISPO-certified by 2019.


Food Safety
We recorded no incidents of non-compliance with regulations and voluntary codes concerning the health and safety impacts of products.
43% of our EOF processed volume was manufactured at sites certified to the food safety management system standard FSSC 22000.
IndoAgri's experienced laboratory team account for food safety risk while working on specific product formulations to meet evolving needs of customers. Our Quality Control teams undergo regular management training on hygiene, safety and Halal risk and control. They are at the heart of our product quality assurance.
An approved Halal certification system applies to all our products and refineries, it is accredited to LPPOM MUI, the Research Institute for Food, Drugs and Cosmetics of the Indonesian Ulemas Council.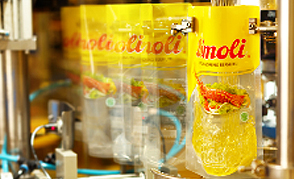 Packaging. All CPO raw materials supplied to us can be traced back to their milling site, batch numbers on product packaging allows for traceability.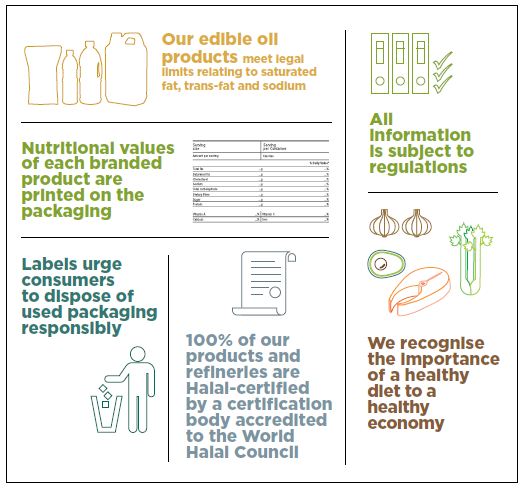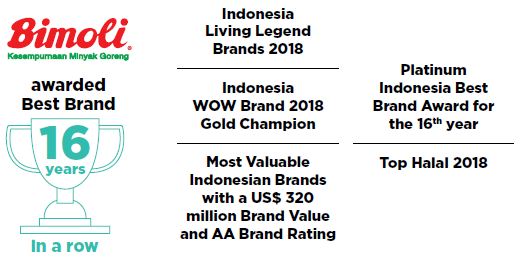 Food Safety and Quality