We seek to meet the standards required by our stakeholders and customers so they can be confident of traceable, responsibly sourced products.

Responsible Sourcing-Food Safety
Traceability
All our mills are subject to certification audits; We have extended our target of achieving 100% ISPO certification to 2023 due to new areas under development. Our Policy expects CPO suppliers to achieve ISPO certification.
We encourage our suppliers, using our Responsible Supplier Guidelines, and focuses on:
Agronomy (Good Agriculture Practices, yield, soil health, crop protection);
Responsible operations (safety, biodiversity, peatland, fire risk, human rights, community engagement, FPIC).
Efficiency of operations (energy and water consumption, GHG emissions, waste production)
Compliance with Government regulations and ISPO certifications.
Of all the CPO we refine, 100 % can be traced back to a supplier mill.

Around 70% of CPO we process is sourced from our own plantations.

Of the FFB processed at mills we control, 100% can be traced back to a plantation of origin.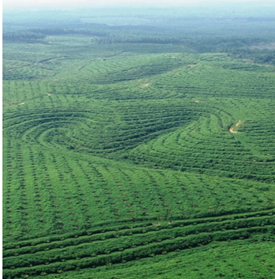 Planning and monitoring of terracing work in the replanting
Monitoring of Agronomic Conditions using Drones.
Technological advancements have enabled our usage of drones in monitoring replanted areas on our estates. Equipped with cameras and controlled remotely via computer or remote control, the drones take aerial photographs of plantation areas on a large scale , using photogrammetry techniques. We are quickly identify blocks with less ideal conditions and mitigate the issues to maximise yield while improving productivity.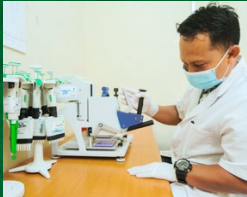 Pipetting reagent at our molecular marker laboratory to access DNA
Novel Trait Programme.
Initiated in 2004, our Novel Trait Programme aims to combine three traits from different palms into a single palm that increases harvesting efficiency, saving both time and cost. In 2021, finally progressed to the field testing stage. We trial planted 10 of the innovated planting materials to observe the consistency and uniformity of the planting materials. The R&D team also developed genetic markers in the planting material to allow easy and early detection of the traits displayed by the oil palms.
Human Rights Assessment
We use the ISPO certification process as part of our efforts to mitigate risk for labour, human rights, and social issues. We report that 100% of operational sites units have been formally assessed for human rights risk since 2020. The competence developed through ISPO also informs and guides our other sites which are preparing for ISPO certification. Our whistle blower mechanism yielded no alerts of Policy breaches on human rights in 2021.
All ISPO audits include criteria for assessing this risk for new suppliers.
Smallholders Engagement and Livelihoods
Smallholders are crucial stakeholders in our commitment to a traceable and sustainable supply chain. In Indonesia, smallholder plantations represent at least 40% of all palm oil cultivation, they generate exports and create jobs. The Indonesian Government plans to make ISPO mandatory for smallholder farmers; we aim to support and assist our smallholders achieve the ISPO certification once it is mandated As of 2021, one of our KUDs is ISPO certified and we are working with the rest of our smallholders.
Yield uplift is key to alleviating negative sustainability impacts. Plasma and other smallholders are expected to meet the same quality criteria as nucleus suppliers of FFB, so plasma plantations are closely aligned with our agricultural practices and management system.
If a grower is operating inefficiently it will erode their livelihood and create pressure to clear forests for agriculture. Our Smallholder Programme aims to minimise this risk. As plasma smallholders can be vulnerable to volatile market conditions, IndoAgri offers them free agronomic advice and training and makes essential resources such as seed stocks and fertilisers affordable to them using through discounts. We also help them to build the capacity of cooperatives on the journey to achieving ISPO certification. Our engagement with smallholders also involve training and workshop activities on sustainable palm oil.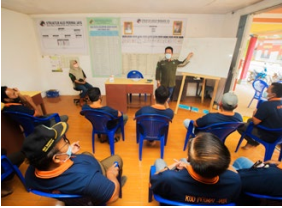 Sharing of best practices on integrated pest control with our smallholder cooperative (KUD)
Sourcing Goals
A key target is for our mills and nucleus plantations to become ISPO-certified by 2023.


Food Safety
We recorded no incidents of non-compliance with regulations and voluntary codes concerning the health and safety impacts of products in 2021.
In 2021, 40% or 375,166 tonnes of CPO Produced by EOF Division were certified to Food Safety Management Standard FSSC 22000.
IndoAgri's experienced laboratory team account for food safety risk while working on specific product formulations to meet evolving needs of customers. Our Quality Control teams undergo regular management training on hygiene, safety and Halal risk and control. They are at the heart of our product quality assurance.
An approved Halal certification system applies to all our products and refineries, it is accredited to LPPOM MUI, The Assessment Institute for Foods, Drugs And Cosmetics, the Indonesian Council of Ulama.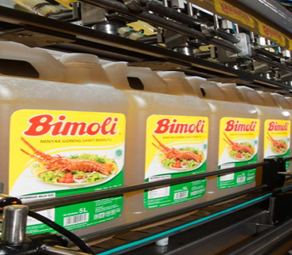 Bimoli cooking oil product in production
Marketing.
In line with increased digitalisation and physical distancing in 2021, we strengthened our social media presence to continue to engage customers over the pandemic. For example, our cooking demos were hosted weekly on our Instagram page, @Palmia_ID, and were well-received by individual consumers and SMEs. We plan to continue these engagements beyond 2021.
Food Safety and Quality Goals