The Plantation Division manages and cultivates various agricultural crops on IndoAgri's estates. It is also responsible for the production and sale of CPO, PK and other related by-products.
In Indonesia, the Group's Plantation Division owns and operates 26 palm oil mills, four crumb rubber processing facilities, three sheet rubber processing facilities, two sugar mills/refineries, one cocoa factory and one tea factory. The Plantation Division is also engaged in sugar operations outside Indonesia through CMAA and Canápolis in Brazil,as well as RHI in the Philippines. The Plantation Division is IndoAgri's principal business.
Planted Area - Indonesia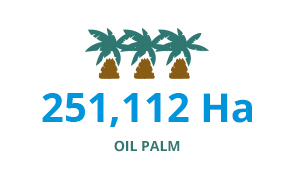 | | | | |
| --- | --- | --- | --- |
| Nucleus | 31 Dec 2018 | 31 Dec 2017 | 31 Dec 2016 |
| Total | 251,112 | 247,629 | 247,430 |
| Mature | 211,707 | 209,817 | 203,501 |
| Immature | 39,404 | 37,813 | 43,929 |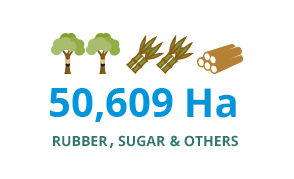 | | | | |
| --- | --- | --- | --- |
| Nucleus | 31 Dec 2018 | 31 Dec 2017 | 31 Dec 2016 |
| Rubber | 16,678 | 19,869 | 20,115 |
| Sugar | 13,595 | 12,618 | 13,249 |
| Others | 20,336 | 20,271 | 19,742 |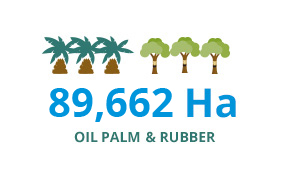 | | | | |
| --- | --- | --- | --- |
| Plasma | 31 Dec 2018 | 31 Dec 2017 | 31 Dec 2016 |
| | 89,662 | 89,441 | 90,463 |
Planted Area - Brazil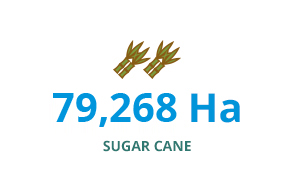 | | | | |
| --- | --- | --- | --- |
| Nucleus | 31 Dec 2018* | 31 Dec 2017 | 31 Dec 2016 |
| Vale do Tijuco (UVT) | 50,686 | 49,204 | 53,826 |
| Vale do Pontal (UVP) | 28,582 | - | - |
*
44% of planted area are leased and planted by CMAA. The balance 56% belong to third parties
Oil Palm
As at 31 December 2018, the Group's oil palm estates covered 251,112 hectares, of which immature estates occupied 39,404 hectares or 16% of the total planted palm area. The average age of our oil palms is about 15 years. The Division owned and operated 26 palm oil mills with a combined FFB processing capacity of 6.8 million tonnes per annum.
In FY2018, the Group's oil palm plantations produced approximately 921 thousand tonnes of CPO, most of which were supplied to the refineries of the Group mainly for the manufacture of edible oils & fats. Palm kernel which are not required for the Group's refining needs are generally sold to external parties.
The Plantation Division manages SumBio and PT SAIN, IndoAgri's advanced agricultural R&D centres at Bah Lias, North Sumatra and Pekanbaru, Riau respectively. These centres specialise in high-tech seed breeding programmes and cultivation techniques, and sold 11.3 million oil palm seeds in 2018 to oil palm producers.
In early 2019, IndoAgri made the decision to withdraw PT SIMP and Lonsum operations from the voluntary RSPO certification and focus on the mandatory ISPO certification, which is closely aligned with industry best practice on sustainable palm oil.
As at December 2018, we have attained ISPO certification for 458,000 tonnes representing 62% of our total nucleus CPO production in 2018.
Rubber
The Division's rubber estates are located in North and South Sumatra, East Kalimantan and Sulawesi. Our rubber trees average about 16 years, and our nucleus rubber estates occupied 16,678 hectares as at end 2018, including 14% that are immature. We also own and operate four crumb rubber and three sheet rubber processing facilities.
In FY2018, rubber production declined 12% to 9,600 tonnes with the conversion of some rubber estates into oil palm plantations in East Kalimantan. 54% of rubber products, comprising sheet rubber and crumb rubber, were sold in Indonesia, and the rest were exported.
Sugar
The Plantation Division has two sugar cane operations in Indonesia to meet domestic sugar demand. The South Sumatra operation has 13,595 hectares of cane plantings, integrated with an 8,000 tonnes of cane per day (TCD) sugar mill and refinery that has an annual crushing capacity of 1.44 million tonnes of cane. The Central Java operation purchases cane from smallholder farmers and operates a 4,000-TCD sugar mill with an annual crushing capacity of 720,000 tonnes of cane.
The Indonesian government regulates commodity prices through strict import quotas on key commodities which include sugar. When the domestic price of a regulated commodity falls below the threshold set by the Indonesian government. In 2018, the threshold was at Rp9,100 per kilogramme of sugar. A maximum retail price of Rp12,500 per kilogramme of white sugar was also imposed on modern trade outlets since 2017 in an effort to curb inflation. Both limits have kept Indonesian sugar price above international rates in the year.
IndoAgri's sugar plantation in Brazil is held and managed through 50% joint ventures in Canápolis and 35% in CMAA with the JF Family. JF Family is a leading Brazilian orange producer.
In 2018, we expanded our sugar production capacity with the acquisition of two sugar and ethanol mills (UVP(CMAA) and Canápolis mills), giving us a combined cane crushing capacity of 8.3 million tonnes annually. The proximity of the mills to one another in Minas Gerais will provide operational and management synergies. Canápolis mill is expected to be operational in 2020.
Tea
Kahuripan Tea is a downstream tea product from Kertasarie, Pengalengan, West Java. Kertasarie tea estate is owned by PT PP London Sumatra Indonesia Tbk (Lonsum), a subsidiary of PT SIMP as part of IndoAgri, Indofood Group. Located 1600 to 1825 meters above sea level, the 600-hectare Kertasarie estate is one of the most elevated tea plantations in Indonesia, hence a very good environment for tea cultivation.
Kertasarie estate, operating since 1908, has been processing its harvests in its own factory with a capacity of 35 tonnes per day. Most of the tea leaves produced have been sold to tea packaging companies both domestically and abroad.
Lonsum now starts its own downstream product by manufacturing tea bags with the brand "Kahuripan," a name synonymous to "Life."
The tea bag products are Regular Black Tea in gussets (aluminum foil) and Premium Black Tea in boxes (each contains 25 tea bags).
In 2018, our tea plantation in West Java launched new tea bag products under the Kahuripan brand, adding to the existing range of black and white tea products. The new tea bag products were introduced in original black tea classic and black tea classic vanilla flavours. This is to elevate the experiences of customers who enjoy our high quality tea products. We continue to promote Kahuripan brand in the domestic consumer market.