The Group operates its R&D activities out of two advanced agricultural research centres: Sumatra Bioscience (SumBio) in Bah Lias, North Sumatra, and PT SAIN in Pekanbaru, Riau.
IndoAgri's agronomic practices are grounded on established principles of R&D. Our R&D programmes and priorities are aimed at increasing yields and productivity, improving crop resilience, and enhancing good estate management practices. Over the years, our R&D activities have contributed successfully to sustainable production, while lending to long-term business competitiveness.
The Group's R&D efforts cover:
PLANT BREEDING

Leverages biotechnology, a diverse germ-plasm base and other advanced cultivation techniques to produce top quality high-yielding disease-resistant oil palm seeds and planting materials. For sugar, we have an extensive selection process for new cane varieties, which then undergo a rigorous five-year selection programme before the new commercial varieties are identified.

SOILS & HYDROLOGY

Involves soil surveys and analyses, and hydrology studies to improve soil fertility and drainage.

AGRONOMY

Entails site-specific soil management and crop-cultivation techniques to ensure optimal crop management and planting densities, and fertiliser and herbicide usage on a block-by-block basis.

CROP PROTECTION

Emphasises the use of biological and naturally occurring agents for controlling pests and diseases.

DATA CAPTURE & INFORMATION MANAGEMENT

Involves accurate data analysis using 2D and 3D maps derived from GPS and ground surveys, and the use of integrated software systems for improved visibility of relevant data across all subsidiaries, refineries and plantations, to aid better management decisions.

PRODUCT DEVELOPMENT

Includes the development of specific formulations of edible oils and fats to meet the diverse requirements of our industrial and retail consumers.
Leading the agricultural R&D efforts are experienced scientists and researchers who are well versed in the latest methodological frameworks underlying the cultivation and the production of premium high-yielding oil palm seeds. Both SumBio and PT SAIN are among 13 recognised oil palm seed producers in Indonesia with the certification and cutting-edge facilities required for the production of high quality planting materials suited to our local climates.
Our R&D efforts for sustainable production include:
Soil and water conservation, specifically the control of soil erosion, cultivation of Legume Cover Crops to improve soil fertility for new plantings, stabilisation of soil on steep slopes and canal banks using Vetiver Systems, and measures to ensure good drainage in low-lying areas and to keep the water table at optimum height for plant growth.
Fertiliser management programmes, which entail a fully integrated strategy to provide site-specific formulations for individual plantation blocks based on the yield target, annual foliar analysis, soil fertility, fertiliser trials, and nutrient release from soil and plant residue. A combination of organic and inorganic fertilisers is used to ensure optimum palm nutrition.
Recycling of palm oil mill by-products, such as empty fruit bunches (EFB) and palm oil mill effluent (POME), which are used together as soil mulch. This has cut our annual requirement for inorganic fertilisers by 14%, while the co-composting of EFB and POME potentially replaces up to 30% of inorganic fertiliser use per year.
Integrated pest and disease management, which includes the use of biological control agents such as barn owls and entomopathogenic microbes. With the effectiveness of our barn owl programme, the use of rodenticides has been discontinued in Riau since 2011. Each year, some 9,500 and 2,000 owlets are produced in our Riau and South Sumatra estates, respectively. This is in addition to the planting of beneficial flowers to attract natural predators. The incidence of crop damage caused by leaf-eating insects is being monitored and analysed using SAP and Web-GIS. This has enabled timely interventions and effective control of all major leaf-eating pests. For the sugar cane estates, the use of biological controls is supported by an extensive programme for the breeding of natural predators such as the black earwigs.
Training and collaboration, which involves deriving new operational solutions through research methodologies, regular inspection visits to the plantations to evaluate field conditions and advise on current agronomy issues, and regular training for estate personnel on the latest agronomic practices for crop protection and soil and crop management.
OIL PALM SEED BREEDING
Since 1997, the Group has been cooperating with leading and highly reputable oil palm breeding centres in Africa and South America on its oil palm seed breeding program. The program uses the latest breeding technology together with our own highly qualified personnel. The best sources of oil palm germplasm are being developed consisting of various origins with the objective of providing high yielding planting materials.
The oil palm seed breeding program of the Group is focused on improving the CPO yield and quality, together with controlling trunk height growth and producing drought & disease tolerant seeds.
PURPOSES OF THE PROGRAM
| | |
| --- | --- |
| A | Be able to control the genetic purity of the seedlings planted, thus ensuring continually improving CPO yields |
| B | Be self-sufficient in terms of oil palm seedlings for its planting purposes |
| C | Produce additional high yielding oil palm seeds for sale to external parties thus generating additional revenue and profitability for the Group |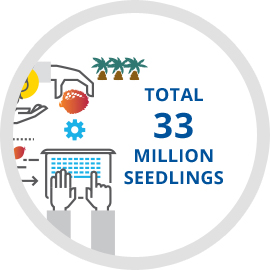 Through the Group's advanced agricultural research centres, Sumatra Bioscience (SumBio) in Bah Lias, North Sumatra, and PT SAIN in Pekanbaru, Riau, we have extensive in-house capability in the management of plantations, and a strong R&D heritage in the analysis of soil, plant tissues, fertilisers, palm oil and latex. Our modern laboratories and comprehensive facilities equip us for in-depth research on tissue culture and pathology. The aim is to maximise the productivity and efficiency of seed breeding and cultivation using methodological frameworks for farming operations, ensuring best practices in plantation management.
SumBio has a long history and is well known as a premier oil palm seed producer in Indonesia, commanding the highest price for its seeds in the market. Each year, SumBio produces up to 25 million superior and high-yielding oil palm seeds. PT SAIN produces up to 8 million seeds per year. Since the attainment of an official seed producer certification in 2011, PT SAIN has boosted the Group's sales capacity by up to 33 million high-quality seeds per annum.
In a move to grow our market share, two new high-yielding varieties were launched in 2015. These new varieties demonstrate the continuous improvement from our advanced breeding programmes, leading to higher yielding and disease tolerant varieties. To manage the risks posed by counterfeit seed distributors, SumBio has a process to authenticate and tag its seed products using ultraviolet (UV) printing technology.